Home
→ Food Supplement Chronolong, 30 capsules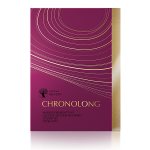 Buy
Food Supplement Chronolong, 30 capsules
# 500449 30 capsules / 21,6 g
A compound consisting of natural components for normal metabolism in the female body
Contains 100% phytoestrogengenestein — one of the mainresources of women youth.The product content is enhanced withsoybeans germs that contain dozensof natural phyto-estrogenes whichfortify the genistein effect. Vitamin Cin form of ascorbic acid providesbetter collagen synthesis, whichis necessary for normal skin bloodvessels. Folacin promotes properhomocysteine metabolism duringmenopause.
Food supplements are not a substitute for a balanced and varied diet or a healthy lifestyle. Keep out of reach of children. In case of any individual intolerance please consult your health care professional prior to intake.
Product of Russia.
Manufacturer: Laboratory of Modern Health LLC, 11/20 Khimzavodskaya St., Berdsk, Novosibirsk Region, 633004, Russia.
Recommended use
Store in a cool, dry place, at a room temperature of no more than 25°С.