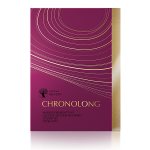 Buy
Chronolong
# 500449 30 capsules
A compound consisting of natural components for normal metabolism in the female body
Nowadays the most well-researched and effective phytoestrogen is genistein. Chronolong is a product containing 100% genistein that provides its effectiveness. The second most important component of the Chronolong formula is the highly enriched extract of soy bean sprouts, that contains several dozen other natural phytoestrogens, adding to and reinforcing the effect of genistein.
The other biologically active ingredients of Chronolong are no less important. Vitamin D promotes normal calcium metabolism in the blood and supports normal bone function. Folacin promotes homocysteine during menopause. Vitamin C supports collagen production for the normal functions of the skin, bones, cartilage, and also helps to protect cells from oxidative stress.
Recommended use
Adults should take 1 capsule per day with meals, period of administration - 1 month.