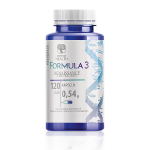 Buy
Food Supplement "Renaissance Triple Set. Formula 3", 120 capsules
# 500113 120 capsules / 64,8 g
Formula 3 Renaissance Triple Set is a complicated set of active components of botanical and mineral origin.
Microelements: selenium, copper and manganese and vitamins C, E and B₂ provide better protection of cells from oxidative stress.
Vitamins B₁ and B₆, calcium, copper and manganese provide normal energy metabolism.
Zinc provides normal immune system functioning.
Vitamins B₂, B₆ and C help to enhance endurance and resistance to fatigue.
Grape seeds extract, cranberry fruits extract, sage extract, thyme extract, oregano extract, ascorbic acid, green tea extract, DL-alpha-tocopherol, lycopene, bilberry extract, rutin, BetaTab 20%, mediterranean pine extract, zinc citrate (zinc), thiamine hydrochloride (vitamin B₁), riboflavin (vitamin B₂), pyridoxine hydrochloride (vitamin B₆), manganic sulfate (manganese), retinol, copper sulfate (copper), potassium iodide (iodine), sodium selenite (selenium), chromium picolinate (chrome), maltodextrin.

Traubenkernextrakt (Vitis vinifera),Moosbeerenfrüchte-Extrakt (Vaccinium subgen. Oxycoccus),Salbei-Extrakt (Salvia officinalis),Thymian-Extrakt (Thymus vulgaris L.), Oregano-Extrakt (Oríganum vulgáre), L-Ascorbinsäure, Grüntee-Extrakt (Thea chinensis L.), L-alpha-Tocopherol, Lykopin, Heidelbeerfrüchte-Extrakt (Vaccínium myrtíllus), Rutin, Beta-Carotin, Seekiefer-Extrakt (Pinus pinaster), Lactose, Maltodextrin, Zinkcitrat, Thiaminhydrochlorid, Riboflavin, Pyridoxinhydrochlorid, Kupfersulfat, Kaliumiodid, Mangansulfat, Natriumselenit, Chrompicolinat, Retinol.

Pro Tagesverzehrsmenge (2 Kapseln):
Vitamin C– 70 mg
Vitamin E– 25 mg α-TE
Vitamin B2– 2.2 mg
Vitamin B6– 2.2 mg
Vitamin B1– 2.0 mg
Vitamin A– 300 µg RE
Zink – 12 mg
Mangan – 2 mg
Kupfer – 1 mg
Jod – 150 µg
Selen – 70 µg
Chrom – 50 µg
Rutin– 28 µg
Beta-Carotin – 4 mg
Lykopin – 4 mg
Traubenkern-Extrakt (Vitis vinifera) – 100 mg
davon Polyphenole – 70 mg
Moosbeerextrakt (Vaccinium subgen. Oxycoccus) – 100 mg
Salbeiextrakt (Salvia officinalis) – 100 mg
davon Tannine – 1.5 mg
Thymianextrakt (Thymus vulgaris L.)
davon Rutin– 0.8 mg
Oregano-Extrakt (Oríganum vulgáre) – 80 mg
Grünteeextrakt (Thea chinensis L.) – 60 mg
davon Catechine – 18 mg
Heidelbeerfrüchte-Extrakt (Vaccínium myrtíllus) – 40 mg
Seekiefer-Extrakt (Pinus pinaster) – 10 mg
davon Proanthocyanidine– 9 mg