Home
→ Food supplement Adaptovit, 10 ml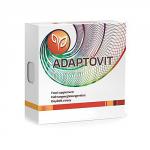 Buy
Food supplement Adaptovit, 10 ml
# 500094 10 ml
Food supplement with maral root, golden root, eleuthero and ginseng.
The dietary supplement which affects human adaptation mechanisms.Extracts of leuzea, ginseng and eleuthero help to overcome tirednessand ensure better recovery after intense exercises.
Food supplements are not a substitute for a balanced and varied diet or a healthy lifestyle. Keep out of reach of children. In case of any individual intolerance please consult your health care professional prior to intake.
Product of Russia.
Manufacturer: Laboratory of Modern Health LLC, 11/20 Khimzavodskaya St., Berdsk, Novosibirsk Region, 633004, Russia.
Recommended use
Store in a dry place, at a room temperature of no more than 25°С.
Schizandra aqueous extract, ginseng root extract, eleuthero root extract, rhodiola rosea root and rhizome extract, leuzea root extract, distilled water, sodium benzoate (E211), ethyl alcohol.