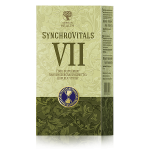 Buy
Food Supplement "Synchrovitals VII", 60 capsules
# 500050 60 capsules / 30,9 g
This product is intended for those who spend much time on the computer or other devices. It contains a wide range of botanical pigments and light filters: lutein, zeaxanthin and beta-carotene. The complex is additionally enriched with natural anthocyanins and vitamin A, which helps to support vision.
Food supplements are not a substitute for a balanced and varied diet or a healthy lifestyle. Keep out of reach of children. In case of any individual intolerance please consult your health care professional prior to intake.
Product of Russia.
Manufacturer: Laboratory of Modern Health LLC, 11/20 Khimzavodskaya St., Berdsk, Novosibirsk Region, 633004, Russia.
Recommended use
Store in a dry place, at a room temperature of no more than 25°С.
Complex № 1: hibiscus flowers extract enriched with anthocyanins, bilberry fruits extract enriched with anthocyanins, aronia fruits extract with anthocyanins.
Complex № 2: acerola extract, rose hips extract, African marigold rich in lutein, beta-carotene, ascorbyl palmitate, zeaxanthin.