Home
→ Food Supplement "Lymphosan F Beauty", 90 g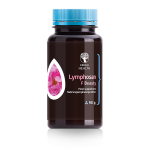 Buy
Food Supplement "Lymphosan F Beauty", 90 g
# 500044 90 g
Food supplement with pectin and botanical extracts for women.
A complex for women whichcontains phytosorbent pectinthat is a source of dietarycellulose. Product ingredientsinclude famous botanicalextracts: watercress, aloe vera,mint leaves, meadow cloverflowers from Altay foothills.Grape seeds extract is widelyused in cosmetics, whilesoy beans contain essentialingredients for women body –phytoestrogens.
Food supplements are not a substitute for a balanced and varied diet or a healthy lifestyle. Keep out of reach of children. In case of any individual intolerance please consult your health care professional prior to intake.
Product of Russia.
Manufacturer: Laboratory of Modern Health LLC, 11/20 Khimzavodskaya St., Berdsk, Novosibirsk Region, 633004, Russia.
Recommended use
Store in a dry place, at a room temperature of no more than 25°С.
Pectin, guar gum, watercress herb extract, topinambur roots powder, mint leaves extract, grape seeds extract, clover flowers extract, soy extract, aloe vera extract-gel.