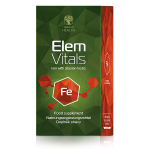 Buy
ElemVitals. Iron with siberian herbs
# 500039 60 capsules
A food supplement with iron, vitamins and botanical extracts
Organic compounds of iron in conjunction with vitamin C, vitamin B complex and natural adaptogens, which are derived from deer antler powder, regulating hematopoiesis and the exchange of oxygen in the body, supporting the body when there is anemia.
– A high biological availability of iron. It is provided by an organic compound containing iron and vitamin C that increases iron assimilation.
– The formula is enriched with vitamin B complex (vitamins B1, В2, В6). Vitamin B6 as such promotes the normal production of red blood cells saturating the skin with youth and the body with energy.
– The compound is additionally enriched with deer antler powder that is a source of natural iron and other minerals.
– The formula is additionally enriched with wholesome plant extracts (extracts of burdock root and eleuthero).
Burdock root extract (Arctium lappa l.), eleuthero extract (Eleutherococcus senticosus), deer antler powder (Cervus elaphus), L-ascorbic acid, ferrous fumarate, nicotinamide, maltodextrin, pyridoxine hydrochloride, thiamine mononitrate, riboflavin, folic acid.

K lettenwur zel-Ex trakt (Arc tium lappa L.),Eleutherococcus-Extrakt (Eleutherocóccus senticósus), Gelatine, L-Ascorbinsäure, Eisenfumarat, Hirschhornpulver (Cervuselaphus), Maltodextrin, Nicotinamid, Thiaminmononitrat,Riboflavin, Pyridoxinhydrochlorid, Folsäure..

Pro Tagesverzehrsmenge (1 Kapsel):
Eisen -12 mg
Vitamin B1 -1,95 mg
Vitamin В2- 1,76 mg
Vitamin В6- 2,28 mg
Vitamin С- 30 mg
Niacin- 19,2 mg NE
Folsäure- 300 μg
Klettenwurzel-Extrakt -200 mg
davon Inulin- 50 mg
Eleutherococcus-Extrakt- 100 mg
davon Eleutheroside В und Е- 0,8 mg
Hirschhornpulver- 92,5 mg