Home
→ Food Supplement "Renaissance Triple Set", 180 capsules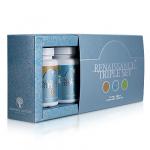 Buy
Food Supplement "Renaissance Triple Set", 180 capsules
# 500032 180 capsules / 92,4 g
Triple support system for the body's metabolism – three formulas, fortified with vitamins, mineral compounds and precious extracts of wild Siberian plants.
THE PRODUCT ADVANTAGES:
premium quality extracts;
full range of antioxidants;
fast-acting formula.
Food supplements are not a substitute for a balanced and varied diet or a healthy lifestyle. Keep out of reach of children. In case of any individual intolerance please consult your health care professional prior to intake.
Product of Russia.
Manufacturer: Laboratory of Modern Health LLC, 11/20 Khimzavodskaya St., Berdsk, Novosibirsk Region, 633004, Russia.
Recommended use
Store in a cool, dry place, at a room temperature of no more than 25°С.
Formula 1: fennel extract, plantain extract, chamomile extract, burdock root extract, horsetail extract, echinacea extract, aloe vera extract-gel.
Formula 2: watercress herb extract, ramsons extract, St. John's wort extract, garden sage extract, horseradish extract, Baikal skullcap extract.
Formula 3: grape seeds extract, cranberry fruits extract, sage extract, thyme extract, oregano extract, ascorbic acid, green tea extract, DL-alpha-tocopherol, lycopene, bilberry extract, rutin, BetaTab 20%, mediterranean pine extract, zinc citrate (zinc), thiamine hydrochloride (vitamin B1), riboflavin (vitamin B2), pyridoxine hydrochloride (vitamin B6), manganic sulfate (manganese), retinol, copper sulfate (copper), potassium iodide (iodine), sodium selenite (selenium), chromium picolinate (chrome), maltodextrin.