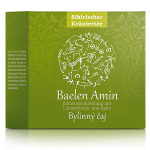 Buy
Herbal tea "Baelen Amin", 25 tea bags x 1,5 g
# 500127 37,5 g (25 tea bags x 1,5 g)
Tea blend, created on basisof Siberian linden, combinesfull bodied flavor andelegant herb scent. Manycenturies ago healers highlyvalued linden which wasregarded as the tree thatsymbolizes longevity andpromotes light breathing.Up to now, it serves as amaterial for talismans, whilelinden flowers are fancied inevery family.
Food supplements are not a substitute for a balanced and varied diet or a healthy lifestyle. Keep out of reach of children. In case of any individual intolerance please consult your health care professional prior to intake.
Product of Russia.
Manufacturer: Laboratory of Modern Health LLC, 11/20 Khimzavodskaya St., Berdsk, Novosibirsk Region, 633004, Russia.
Recommended use
1.5 g (1 tea bag) pour over with 1 glass of boiling water (200 ml) and let stay for 15 minutes, squeeze. Adults should take 1/2 glass twice a day with meals.