Home
→ Food Supplement "Fitness catalyst - Chromlipaza", 60 capsules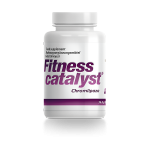 Buy
Food Supplement "Fitness catalyst - Chromlipaza", 60 capsules
# 500004 60 capsules / 36 g
Food supplement with organic chrome, katechin and phenol.
Botanical complex with organic chrome facilitates proper microelements metabolism. The product helps to enhance lean body mass thanks to the chrome properties that support normal blood sugar level.
Food supplements are not a substitute for a balanced and varied diet or a healthy lifestyle. Keep out of reach of children. In case of any individual intolerance please consult your health care professional prior to intake.
Product of Russia.
Manufacturer: Laboratory of Modern Health LLC, 11/20 Khimzavodskaya St., Berdsk, Novosibirsk Region, 633004, Russia.
Recommended use
Store in a cool, dry place, at a room temperature of no more than 25°С.