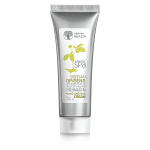 Buy
SIBERIAN GINSENG HAND AND NAIL CREAM
# 402588 2.5 fl. oz. / 75 ml
The feather-light texture is instantly absorbed leaving no sticky feeling. The nourishing formula with Siberian ginseng and red cedar essential oil restores and smooths the hand skin. With keratin in its formula the cream helps strengthen nails.
Siberian ginseng root extract, red cedar essential oil, sweet orange essential oil, bergamot fruit oil, siberian angelica root oil, ginger root oil.

Sibirischer Ginseng-Extrakt, ätherische Öle von Wacholder Virginia, ätherische Öl der süßen Orange, ätherische Öl der Bergamotte, ätherische Öl von Engelwurz, ätherische
Öl des Ingwers.
Ingredients (INCI): aqua, cetearyl alcohol, С12-15 alkyl benzoate, urea, glyceryl stearate, isohexadecane, ethylhexyl stearate, caprylic/capric triglyceride, glycerylcaprylate, sodium benzoate, carbomer, potassium cetearyl phosphate, trisodiumethylenediaminedisuccinate, hydrolyzed keratin, glycerin, caprylhydroxamic acid, triethyl citrate, sodium hydroxide, helianthus annuus (sunflower) seed oil, rosmarinusofficinalis (rosemary) leaf extract, acanthopanaxsenticosus (siberian ginseng) root extract, amyrisbalsamifera bark (amyris) oil, citrusaurantiumdulcis (orange) peel oil, citrus aurantiumbergamia (bergamot) fruit oil, juniperusvirginiana (red cedar) oil, anisaldehyde, angelica archangelica (angelica) root oil, zingiberofficinale (ginger) root oil, vetiveriazizanoides (vetiver) root oil,prunusamygdalusamara (bitter almond) kernel oil.