Home
→ SIBERIAN GINSENG FACE CARE 3 IN 1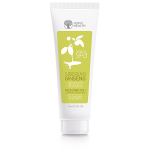 Buy
SIBERIAN GINSENG FACE CARE 3 IN 1
# 402585 2.5 fl. oz. / 75 ml
The product combines the three basic skin treatment steps: cleansing, peeling and deep cleansing. It gently removes makeup and eliminates impurities for a feeling of comfort.
Siberian cranberry extract, red cedar essential oil, sweet orange essential oil, grapefruit essential oil.

Sibirischer Ginseng-Extrakt, Eichenrindenextrakt, Extrakt des Wacholders, Thymian-Extrakt, Extrakt der Mutter-und-Stiefmutter.

INGREDIENTS: AQUA (WATER), KAOLIN, GLYCERIN, LAURAMIDOPROPYLBETAINE, RHYOLITE POWDER, SODIUM LAUROYL METHYL ISETHIONATE, ZINC OXIDE, CARRAGEENAN, GOSSYPIUMHERBACEUM (COTTON) SEED OIL GLYCERETH-8 ESTERS, TITANIUM DIOXIDE, GLYCERYLCAPRYLATE, LUFFA (LOOFAH) CYLINDRICA FRUIT POWDER, SODIUM SALICYLATE, DEHYDRO XANTHAN GUM, UREA, CAPRYLHYDROXAMIC ACID, MENTHYL LACTATE, CITRIC ACID, ETHYL MYRISTATE, ACANTHOPANAXSENTICOSUS (SIBERIAN GINSENG) ROOT EXTRACT, QUERCUSROBUR (OAK) BARK EXTRACT, JUNIPERUSCOMMUNIS (JUNIPER) FRUIT EXTRACT, THYMUS SERPYLLUM (THYME) EXTRACT, TUSSILAGOFARFARA (COLTSFOOT) LEAF EXTRACT, CITRUS AURANTIUMBERGAMIA (BERGAMOT) FRUIT OIL, AMYRISBALSAMIFERA BARK (AMYRIS) OIL, JUNIPERUSVIRGINIANA (RED CEDAR) OIL, CITRUS AURANTIUMDULCIS (ORANGE) PEEL OIL, ANISALDEHYDE, ANGELICA ARCHANGELICA (ANGELICA) ROOT OIL, ZINGIBEROFFICINALE (GINGER) ROOT OIL, VETIVERIAZIZANOIDES (VETIVER) ROOT OIL, PRUNUSAMYGDALUSAMARA (BITTER ALMOND ) KERNEL OIL.
Ingredients (INCI): aqua (water), kaolin, glycerin, lauramidopropylbetaine, rhyolite powder, sodium lauroyl methyl isethionate, zinc oxide, carrageenan, gossypiumherbaceum (cotton) seed oil glycereth-8 esters, titanium dioxide, glycerylcaprylate, luffa (loofah) cylindrica fruit powder, sodium salicylate, dehydro xanthan gum, urea, caprylhydroxamic acid, menthyl lactate, citric acid, ethyl myristate, acanthopanaxsenticosus (siberian ginseng) root extract, quercusrobur (oak) bark extract, juniperuscommunis (juniper) fruit extract, thymus serpyllum (thyme) extract, tussilagofarfara (coltsfoot) leaf extract, citrus aurantiumbergamia (bergamot) fruit oil, amyrisbalsamifera bark (amyris) oil, juniperusvirginiana (red cedar) oil, citrus aurantiumdulcis (orange) peel oil, anisaldehyde, angelica archangelica (angelica) root oil, zingiberofficinale (ginger) root oil, vetiveriazizanoides (vetiver) root oil, prunusamygdalusamara (bitter almond ) kernel oil.