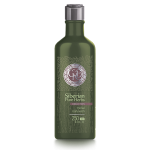 Buy
Siberian Pure Herbs Collection. Herbal Body Wash
# 401880
This luxurious bath and body wash contains Siberian elder flower and beggarticks plant extracts that will keep your skin feeling soft and soothed after cleansing. Exotics blend of delicate scents of Siberian fir, eucalyptus and lavender oils will turn an ordinary shower into a refreshing and revitalizing spa experience.
A rich botanical complex of:
- Siberian elder flower extract
- Siberian beggarticks extract
- Siberian fir oil
- Siberian pine bud extract
- Eucalyptus oil
- Lavender oil

INGREDIENTS: AQUA (WATER), LAURAMIDOPROPYL BETAINE, ALPHA OLEFIN SULFONATE, SODIUM COCOAMPHOACETATE, SODIUM C12-14 OLEFIN SULFONATE, GLYCERIN, SAMBUCUS NIGRA (ELDER) FLOWER EXTRACT, SODIUM HYDROXYMETHYLGLYCINATE, ROSMARINUS OFFICINALIS (ROSEMARY) LEAF WATER, MENTHA PIPERITA (PEPPERMINT) LEAF WATER, LAURAMINE OXIDE, INULIN, UREA, SODIUM BENZOATE, TRISODIUM ETHYLENEDIAMINE DISUCCINATE, L-LACTIC ACID, BIDENS TRIPARTITA (BUR-MARIGOLD) EXTRACT, FAGOPYRUM ESCULENTUM (BUCKWHEAT) SEED EXTRACT, PINUS SYLVESTRIS (PINE) BUD EXTRACT, LAVANDULA ANGUSTIFOLIA (LAVENDER) FLOWER OIL, CITRUS AURANTIUM (NEROLI) FLOWER OIL, ABIES SIBIRICA (SIBERIAN FIR) OIL, EUCALYPTUS GLOBULUS (EUCALYPTUS) LEAF OIL, CYMBOPOGON CITRATUS (LEMON GRASS)LEAF OIL.

– Extrakt aus schwarzem Holunder,
– Inulin und Harnstoff,
– Zweizahn,uchweizen,
– Kieferknospen,ätherische Öle
Ingredients (INCI): aqua (water), lauramidopropyl betaine, alpha olefin sulfonate, sodium cocoamphoacetate, sodium c12-14 olefin sulfonate, glycerin, sambucus nigra (elder) flower extract, sodium hydroxymethylglycinate, rosmarinus officinalis (rosemary) leaf water, mentha piperita (peppermint) leaf water, lauramine oxide, inulin, urea, sodium benzoate, trisodium ethylenediamine disuccinate, l-lactic acid, bidens tripartita (bur-marigold) extract, fagopyrum esculentum (buckwheat) seed extract, pinus sylvestris (pine) bud extract, lavandula angustifolia (lavender) flower oil, citrus aurantium (neroli) flower oil, abies sibirica (siberian fir) oil, eucalyptus globulus (eucalyptus) leaf oil, cymbopogon citratus (lemon grass)leaf oil.