Home
→ Extra rich massage balsam / Universal balm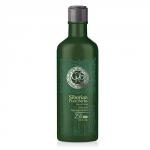 Buy
Extra rich massage balsam / Universal balm
# 401806 250 ml
Balm helps to comforting various malaise feelings, removes fatigue after physical exercises, power-lifting and supercooling. Rich mix of medical plants extracts and fir essential oil have determined warming and relaxing influence. Balm includes several rare Baikal herbs, giving it special power. Has a wide range of effects: aromatherapy, warming, energizing. This balm has wonderful aroma of siberian taiga transforming any place to oasis of wild nature.
Fir oil, eucalyptus essential oil, pine turpentine, Saint-John wort extract, thyme extract, polypore extract, oak bark extract, peony extract, coltsfoot extract, nettle extract, hop extract, bergenia extract, saltwort extract, white sweet clover extract, angelica extract, bloodroot.


INGREDIENTS: AQUA (WATER), ABIES SIBIRICA (SIBERIAN FIR) OIL, SORBITOL, BENTONITE, XANTHAN GUM, POLYGLYCERYL-3 POLYRICINOLEATE, CAMPHOR, SODIUM HYDROXYMETHYLGLYCINATE, SODIUM BENZOATE, EUCALYPTUS GLOBULUS (EUCALYPTUS) LEAF OIL, ABIES SIBIRICA (FIR) TURPENTINE, POLYGLYCERYL-3 RICINOLEATE, HYPERICUM PERFORATUM (SAINT JOHN`S WORT) EXTRACT, THYMUS SERPYLLUM (THYME) EXTRACT, FUNGUS BETULINUS (BIRCH POLYPORE) EXTRACT, QUERCUS ROBUR (OAK) BARK EXTRACT, PAEONIA OFFICINALIS (PEONY) EXTRACT, TUSSILAGO FARFARA (COLTSFOOT) LEAF EXTRACT, URTICA DIOICA (NETTLE) EXTRACT, HUMULUS LUPULUS (HOPS) EXTRACT, BERGENIA CRASSIFOLIA (BERGENIA) EXTRACT, SALSOLA COLLINA (TUMBLEWEED) EXTRACT, MELILOTUS ALBUS (HONEY CLOVER) EXTRACT, ANGELICA SINENSIS (ANGELICA) ROOT EXTRACT, POTENTILLA ERECTA (TORMENTIL) ROOT EXTRACT.

Tannenöl, Kampfer, ätherisches Eukalyptusöl, Kiefernharz, Extrakte aus Johanniskraut, Thymian, Chaga Pilz, Eichenrinde, Pfingstrose, Huflattich, Brennnessel, Hopfen, Bergenie, Hügel-Salzkraut, weißem Steinklee, Angelika-Pflanze, Fingerkraut.
Ingredients (INCI): aqua (water), abies sibirica (siberian fir) oil, sorbitol, bentonite, xanthan gum, polyglyceryl-3 polyricinoleate, camphor, sodium hydroxymethylglycinate, sodium benzoate, eucalyptus globulus (eucalyptus) leaf oil, abies sibirica (fir) turpentine, polyglyceryl-3 ricinoleate, hypericum perforatum (saint john`s wort) extract, thymus serpyllum (thyme) extract, fungus betulinus (birch polypore) extract, quercus robur (oak) bark extract, paeonia officinalis (peony) extract, tussilago farfara (coltsfoot) leaf extract, urtica dioica (nettle) extract, humulus lupulus (hops) extract, bergenia crassifolia (bergenia) extract, salsola collina (tumbleweed) extract, melilotus albus (honey clover) extract, angelica sinensis (angelica) root extract, potentilla erecta (tormentil) root extract.