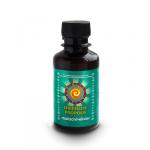 Buy
Sibirische Propolis-Malachit Elixier (The Malachite Elixir), 150 ml
# 400522 150 ml
An elixir with a highly active propolis emulsion, it is obtained from the purest Altai mountain propolis. It is based on ancient Siberian recipes and enriched with the extracts of wild growing Siberian herbs. The Malachite Elixir has all the wholesome properties of propolis, but due to its botanical formula it is especially healthful and beneficial for a woman's well-being and beauty.
Propolis; Honey; Shepherd's purse extract ; Motherwort extract ; Medicinal sage extract ; Licorice root extract; Chamomile extract ; Lingonberry extract; Angelica root extract ; Water.

Propolis, Honig, Hirtentäschelkrautextrakt (Capsella Bursae pastoris herbs L.), Herzgespannkraut-Extrakt (Leonorus cardiaca L.), Salbeikrautextrakt (Salvia officinalis L.), Süßholzwurzelextrakt (Glycyrrhiza glabra L.), Kamillenkrautextrakt (Chamomilla recutita L.), Heidelbeerblätter-Extrakt (Vaccinum myrtillus L.), Angelikawurzelextrakt (Archangelica officinalis Hoffm.), Wasser.

Pro Tagesverzehrsmenge (10 ml):
Propolis - 0.3 g
Hirtentäschelkrautextrakt 4:1 - 0.06 mg
Angelikawurzelextrakt 4:1 - 0.06 mg
Herzgespannkraut-Extraktt 5:1 - 0.06 mg
Salbeikrautextrakt 4:1 - 0.03 mg
Süßholzwurzelextrakt 4:1 - 0.03 mg
Kamillenkrautextrakt 5:1 - 0.03 mg
Acl. 3 % vol
Propolis, honey, shepherd's purse extract, motherwort extract, medicinal sage extract, licorice root extract, chamomile extract, lingonberry extract, angelica root extract, water.