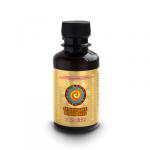 Buy
Sibirische Propolis Gold-Elixier (The Gold Elixir), 150 ml
# 400521 150 ml
An elixir with a highly active propolis emulsion for Improving both mental and physical vitality and health. Its formula is based on ancient Siberian recipes and enriched with the extracts of rare wild Altai mountain herbs. It stands out for its memorable taste and the fragrance of the Siberian taiga!
Propolis; Honey; Maral root extract; Eyebright extract; Puncture vine extract; Astragalus root extract; Clover flower extracts; Siberian hawthorn fruit extract; Marigold flower extract ; Water.

Propolis, Honig, Maralwurzelextrakt (Leuzea carthamoides DC.), Augentrostkrautextrakt (Euphrasia officinalis L.), Bürzeldornkrautextrakt (Tribulus terrestris L.), Astragalwurzelextrakt (Astragalus mambranaceus (Fish.Bunge), Kleekrautextrakt (Trifolium pratense L.),Weißdornfrüchteextrakt (Crataegus altaica (Lond.) Lange),Kalendulablütenextrakt (Calendula officinalis L.), Wasser.

Pro Tagesverzehrsmenge (10 ml):
Propolis - 0.3 g
Maralwurzelextrakt 4:1 - 0.15 mg
Augentrostkrautextrakt 4:1 - 0.1 mg
Bürzeldornkrautextrakt 7:1 - 0.09 mg
Astragalwurzelextrakt 4:1 - 0.04 mg
Kleekrautextrakt 4:1 - 0.04 mg
Weißdornfrüchteextrakt 5:1 - 0.04 mg
Kalendulablütenextrakt 7:1 - 0.04 mg
Acl. 3 % vol
Propolis, honey, maral root extract, eyebright extract, puncture vine extract, astragalus root extract, clover flower extracts, siberian hawthorn fruit extract, marigold flower extract, water.