Home
→ Siberian Wellness thermos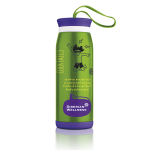 Buy
Siberian Wellness thermos
# 106578 500 ml
A compact thermos with the uplifting design perfectly keeps the temperature of drink within 4-5 hours.
Bright thermos with an original and uplifting design! A 100% sealed cap and steel vacuum bottle keep drinks hot for around 4-5 hours. Thermos is convenient to hold in hands and fits the compact bag.
Recommended use
Use & Care:
• Clean thermos with hot water and washing-up liquid prior to initial use.
• After filling thermos screw the lid tightly.
• For best results preheat vacuum bottle with hot water before use.
• Avoid filling thermos with carbonated and salty drinks, as well as dairy products.
• Do not leave liquids in thermos for longer than 48 hours, and foods – for longer than 6 hours.
• To avoid unpleasant smell do not store an empty thermos sealed.
• Do not clean with abrasive cleaners.
• Do not wash in a dishwasher.
• Сan be used by adults and children over 3 years of age.
Material: steel, plastic, silicone.